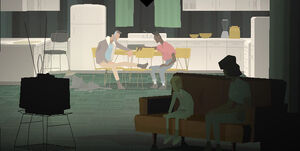 A joint doctor who lives east of Bowling Green.
Though he used to live in an actual neighborhood, Truman chose to live in the Museum of Dwellings when it was constructed. Ezra and Julian carried his house to the forest and the doctor chose to remain there.
Lula Chamberlain recommends Conway to the doctor. Ezra and Julian carry them out to the forest where he currently lives. He inspects Conway's leg, giving him drugs to help with the pain while he works on it.
Truman tells Conway about the bill owed to Consolidated Power Co. for the leg work he did. He explains side effects of the drug Neurypnol TM and explains future care of the leg, which appears to have been entirely replaced with a ghostly, skeletal one, visible only to Conway.