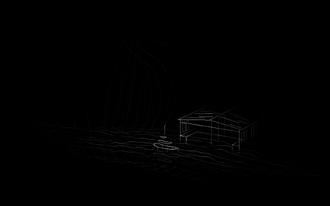 The Echo River is the setting for
Act IV
, during which the characters travel down the river stopping at a series of destinations along the way. Stops along the river include the
Bureau of Reclaimed Spaces
, a gas station, the
Rum Colony
, a telephone station, the
Radvansky Center
, an island, the
Echo River Central Exchange
, Sam and Ida's restaurant, and the Silo of Late Reflections. There are also a number of other people traveling down the Echo River that the characters meet; the
Iron Pariah
can also be encountered along the Echo. 
The river flows from Lake Lethe, which is named for a river in Ancient Greek mythology that erases people's memories so that they can travel on into the afterlife peacefully. Will remarks that the river has a way of making one forgetful. 
The Echo River is also largely the focus of the interlude Here And There Along The Echo.