The state of Kentucky is the setting of
Kentucky Route Zero
, where it takes the form of the overworld map. Most of the game's locations are located off of the various highways that crisscross the map, and as such the protagonists are often found traveling its roads, notably Interstate 65. Notable locations include
Equus Oils
,
Marquez Farmhouse
,
Elkhorn Mine
, and
The Lower Depths
. While traversed in-game, it is represented by a black and white highway map.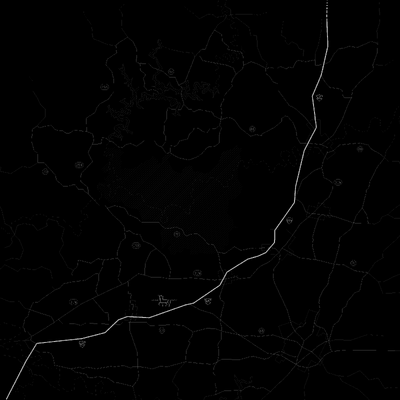 The map is fairly accurate to real life; it represents a large stretch of Interstate 65 between Bowling Green and Elizabethtown. This places the
Equus Oils
station somewhere in the vicinity of Smiths Grove, and the
Marquez Farmhouse
just west of Cave City. The empty area in the center of the map is occupied by
Mammoth Cave National Park
. Areas beyond the roads, like
Lake Cumberland
, are also correctly represented.